Tarifa a její jedinečná příroda, je oblíbeným turistickým cílem pro návštěvníky z celého světa. Její kultura je velmi ovlivněna Araby. Tato malá rybářská vesnice na jihu Španělska, v Andaluzii, je ideálním místem pro kitesurf. Má spoustu větru a dokonce zde najdete i vlny. Španělé nazývají dva převládající větry Poniente a Levante. Nenajdete lepší místo v Evropě pro učení a procvičování kitesurfing a mnoho dalších vodních sportů! Známé pláže pro kitování jsou Los Lances, Valdevaqueros nebo Punta Paloma. Pro surf je to pláž Balneario a Arte Vida. I v zimě má Tarifa příjemné teploty a spoustu sluníčka. 
Africký kontinent je vzdálen pouhých 14 km od hotelu. Velmi často je vidět z jejich pláží Maroko, město Tanger a Ceuta! Tarifa je také místem, kde se setkává Atlantský oceán a Středozemní moře.
Je tolik míst v Tarifě a Andaluzii, které stojí za to navštívit. A je tolik různých aktivit, co se zde dá dělat. Rozhodně se nebudete nudit. Ať už máte chuť vyzkoušet některé z vodních sportů nebo si chcete jen udělat výlet, máme pro vás spoustu nápadů. Takže pokud si chcete-li být jisti, že na své dovolené budete mít spoustu slunce, krásné moře a různá dobrodružství, pak Tarifa je to správné místo!
---
K vidění v Tarifě
Ostrov Las Palomas
Také nazývaný Punta Marroquí. Zde se setkává Atlantik se Středozemním mořem. Tarifa je nejjižnější místo Španělska a Evropy a také nejužší místo v Gibraltarské úžině. Na konci ostrova najdete maják 43m vysoký. Ostrov je pro veřejnost uzavřen, je to vojenská zóna. Ale můžete mít příjemnou procházku mezi dvěma moři až k ostrovu. Pro skupiny je možné zažádat o povoleni ke vstupu na radnici v Tarifě. Pro pokročilé kitaře je Balneario pláž, která je na pravé straně ostrova, ideálním místem na kitování ve větru Levante, krásné vlny a plochá voda. Ale pozor na místa s dírami ve větru. Pro surfaře, Balneario je úžasná pláž na surf, vlny jsou zde velmi často :-) Je to též prez léto oficiální pláž na surf a paddle surf stanovená městem.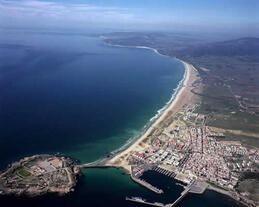 Hrad Guzmán el Bueno
Tarifa´s castle was built from Caliph Adberramán III as a strategic point of the Strait of Gibraltar.King Guzmán "The Good" became famous for his fight against Muslims in 1294. His son was captured by his enemies and as exchange they asked to have village Tarifa. He decided in favor of Tarifa, but his son was executed. A statue of Sancho IV is outside the castle looking out over the Gibraltar Strait to the coast of Tanger in Morocco. You find the castle in center of Tarifa, near the sea.
The openings time is: Tue-Sat, 11am-2pm and 6-8pm. Sun 11am-2pm. Mon closed.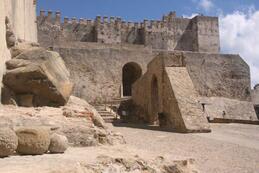 Kostel Sant Mateo
Located in old town from Tarifa, near the castle, surrounded with lots of lovely restaurants. It is definitely worth a look. It was built in the 16th century and is largely of late Gothic style with a neo-classic facade.
Mini hrad Santa Catalina
In front of Tarifa´s harbour. Santa Catalina, was built in 1929 as a weather centre for shipping. It change during the Spanish Civil War in 1936. General Franscisco Franco took it over for military purposes, converted it into an ammunition storage and outfitted it with concrete bunkers for defensive purposes. Area under construction at the moment.
Písečná duna
Fantastic unspoild beach, about 8 km from Tarifa direction Cadiz. Turn direction Punta Paloma and the next to the left. There is a big parking. You go down to the beach and to the right. You can have a nice walk there, along the see. You will fint nice surf spot and also hidden beaches. Actually it is nature reserve so no buildings on the beach :-) From the sand dune, the views of the African coast are spectacular.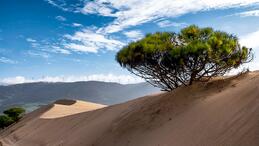 Lovení tuňáka
The word almadraba comes from Arabic and means the place to strike or fight. It is a fishing art used by the Phoenicians along the coasts of Cádiz and then later by the Romans. It consists of setting a maze of nets along tuna routes. The tuna nets go out in March and stay there until June. Traditionally there were almadrabas everywhere along the provincial coast, but nowadays they are concentrated in Conil, Barbate, Zahara de los Atunes and Tarifa.
Tuna Week: during the month of June some 30 establishments participate in offering special menus dedicated to tuna.
Conservera de Tarifa: a shop offering every type of packed fish. In addition to almadraba tuna you can find frigate tuna and mackerel from Tarifa; products with D.O. Designation. (Specific Designation of Origin) Andalusia. Two brands, la Tarifeña and Piñero, are historical in this sector.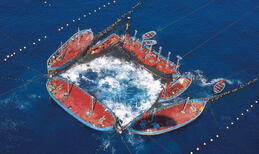 Vyhlídka v Tarifě
Two continents so close, Europe and Africa just 14 km far away ! You get beautiful view from this point to Africa, across Gibraltar strait. And behind Gibraltar strait, coming out the silhouette of African´s guardian, Musa mountain, with its 851 high. A lots of specialist call this mountain one of two column of Hercules. The other one would be Rock of Gibraltar. On left side, you can see Ceuta, a Spanish city on African continent. You can visit Ceuta with ferry from Algeciras.
If you come from Malaga, this viewpoint is just 6 km before Tarifa. There is a small bar.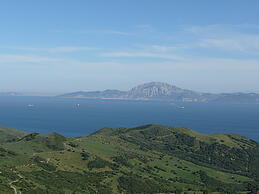 Římské zříceniny Baleo Claudia
In Bolonia, just 15 km from Tarifa, direction Cadiz, you can find the 2000 year old ruins of the Roman town of Baelo Claudia, relics of Roman architecture. Baelo Claudia supplied the popular Roman delicacy, fish paste, to the whole Roman Empire. Emperor Claudius gave the town his name. Main attractions to be seen includes Theather, Temple of Isis, Basilika, Thermal baths, Aqueducts and Salting factory. Opening time: Tue to Sat: Jun - Sep 9am - 7pm, Nov - Feb, 9am - 6pm. Sun all year round: 9am - 2pm, Mon closed.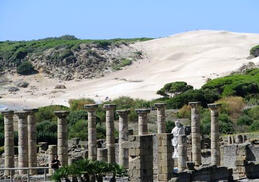 Jiné aktivity
Delfíni a velryby
Excursion for to see whales and dolphins in the Strait of Gibraltar - you can see killer whales, striped dolphin, common dolphin, sperm whale ect. Awesome experience! ... But choose a day without waves :-) There are several companies which offer boat trips. Killer whales season is from June till September and the trip takes longer, around 3 hours. The boats go several times a day.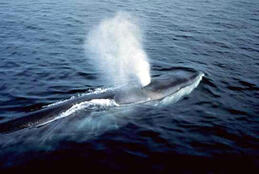 Šnorchlování
Tarifa offers amazing snorkel spots that are easily accessible for everyone. Be ready for the adventure ! Snorkeling is a favourite activitie for the whole family. Nice spots are by Tarifa´s island but there are also a lots of secret spots in military zone.
Horolezectví
You can climb in Tarifa the whole year around. The hills around Bolonia, in the San Bartolo area, offer over 250 routes of levels between III and 8a. There are routes from 10 to90 metres, (most are between 20 metres).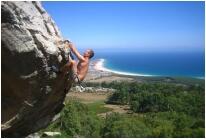 Ježdění na koni
Horse riding on the beaches of Tarifa in the natural Parque Los Acornocales, with stunning views of Africa. Andalusian horses are famous around the world.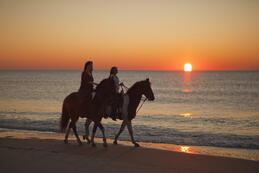 Hrát golf
Costa de la Luz is a only one place in Spain where you can play golf all year around. There are more golf places in Andalucia, the nearest are Golf Montenmedio (30min from Tarifa direct. Cadiz), La Duquesa Golf Club, 18 Hoyos (30min. direc. Marbella). The prices change a lot from place to place, but a lots of golf places offer also happy hour :-)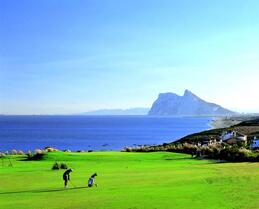 Jóga
Hatha yoga, Iyengar yoga, Anusara yoga, Therapeutic yoga with Inga Maria. Very healthy yoga for everybody: adults, kids, for people with back problems ect. Classes in small groups or private lesson. Tel. +34 660832269. Es, De, En, Fr. It is possible to do lessons in Facinas in house of Inga, in very nice nature envierment or in Hotel Hurricane near to Tarifa.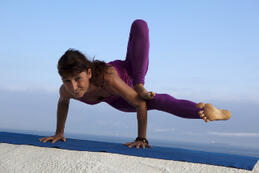 Potápění
It is estimated that in the Spanish waters there are about 1,500 shipwrecks, which in many cases hids different treasures of great historical value. Huelva and Golf of Cadiz are the areas of Spain with a biggest number of sunken ships. Mostly of them belonged to Indian´s trader or were boats from Battle of Trafalgar. . 9 of the 15 French and Spanish ships that sank in the Battle of Trafalgar (1805) against the British navy remain underwater close to the coast of Huelva and Cadiz.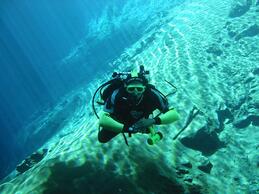 Pláže
Pláž Los Lances
Best Tarifa´s beach for kitesurfing and windsurfing. Official kite sport from 15.6. - 15.9. It has the best wind conditions for sailing with the West wind. If there is Levante, east wind, you can contract rescue boat in our kite school.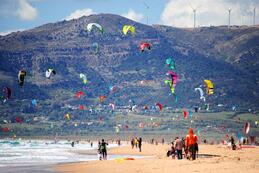 Pláž Playa chica
The last beach of the Mediterranean Sea. A tiny beach in front of the Isla de las Palomas - the southernmost point of the European continent. If there is west wind and waves in the see, here the water is calm without waves.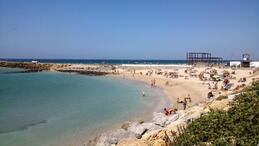 Pláž Las dunas
A wonderland beach with sand dunes in Natural Park Estrecho. Hidden beaches in the military zone, where is the tip of Punta Paloma. A good place to kitesurf with the east wind. Zones for kitesurf, windsurf and swimmers in summer. Respect them!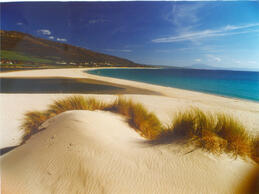 Pláž Bolonia
Just 18 km from Tarifa towards Cadiz. Known for its sandy beache, sand dunes and also the Roman ruins of Baelo Claudio. If the wind for kitesurfing and windsurfing is too strong in Tarifa, in Bolonia is softer.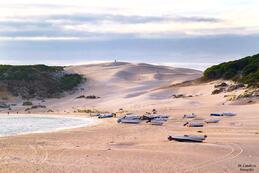 Restaurace
ECO center, vegetariánská restaurace
This vegetarian restaurant located in center of Tarifa, offers ecologic food and pizza. In the holistic center inside you can practice yoga, pilates, meditation, salsa dance, they also offer masajes shiatsu etc. In the eco shop you find ecologic products, food, drinks, healthy cosmetic, eco cleanings products, books, fresh bread, eggs, vegetable, spicies and more ! They also organize life concerts every Sunday. Who does not know the famous music band from Tarifa, Los Miserables...miss something!!!
Street/ San Sebastian 6, Tarifa 11380, Tel. +34 956627220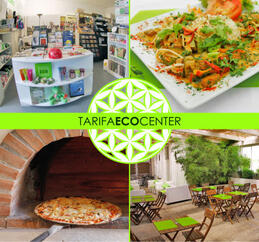 Solscitio restaurace
Restaurant at the beach Los Lances, behind bus station, near skatepark. They open at 3pm. Cozy place with amazing fresh juice, variety of salads, starters, main courses and deserts. Good, friendly, English speaking and very fast service - this combination is very difficult to find in Tarifa :-) With terrace full of beautiful plants. You can connect you to internet per wifi. After nice food you can have a beautiful walk along the beach, with sunset and view to Tanger in Morocco.
Street/ Pintor Perez Villalta 64 L3, Urb. Los Lances II, 11380 Tarifa, Tel. +34 956 68 49 65
Pizzeria La Tribu, Surf bar
Night life in Tarifa start mostly with visiting the Surf bar and Pizzeria La Tribu. Central located, near to all bars and pubs. They offer variety of pizzas, for cheap price and it´s fast done. As a drink try Spanish beer, Coronita or some tasty coctails as Piña Colada, Mojito, Sex on the beach....Happy hour are mostly from 23-00h!
Opening hours during winter: 19:00 to 02:00 in the week, 19:00 to 03:00 on weekends. Closed on Tue during the months of Jan & Feb.
Street/ De la Luz 7, Tarifa, Spain, 11380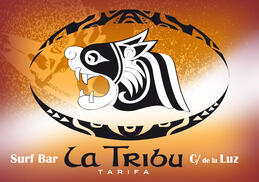 Cafe Azul, snídaně
The best breakfast and brunch in Tarifa. Small but cozzy place with great smoothies and fresh juice, yogurt with fresh fruits, nice italian coffee, sweet and salty crepes, cold or warm sandwiches, eggs and more. It is located in the center, near Puerto de Jerez.

Open from 9am - 2:30pm, every day.
Street/ Batalla del Salado 8, 11380 Tarifa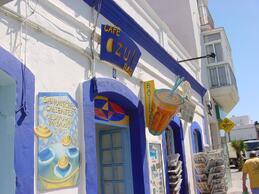 Surla, Surf bar
In this special surf bar you can have a breakfast, with the real italian cappucino, lunch, with daily menu and from 7pm sushi from fresh fish from Tarifa. Possibility to take it away. Surf bar belong to an italian girl, so the coffee is perfekt ! Don´t forget to taste the home-made cakes :-) The restaurant is located close to the see at the beach Los Lances. It has nice terrace, open in sommer, close in winter. You can connect to wifi internet. After eating here we recommend to enjoy a walk along the beach, with its breath-taking sunsets and views to Morocco.
Open every day from 9am till 00h.
Street/ Pintor Perez Villalta, 11380 Tarifa, Tel. +34 956685175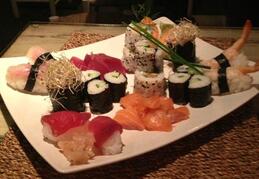 Surf bar Tomatito
Tomatito, the sport bar, is the next stop in the regularly nightlife route through Tarifa :-) You have to try their fresh strawberry mojito, you will not to stop to drink it !!! Good for parties, birthday celebration, or just have a drink on the way. For small hunger you can have hamburger, hot dog or vegies sandwich. Amazing and funny service, done with love :-)) By important spanish football games you can watch it there. Located in old town, next to party part of Tarifa. Open from 7pm till 2am.
Street/ Cervantes 4, 11380 Tarifa
Chilimosa, vegetariánská restaurace
Great experience and fantastic fresh and helthy dishes. Very small, so if it is full, you can take it away. But very good vibe in the restaurant, staff is friendly and English speaking. All biological and home made food. Try the fabulous hummus with falafel, coconut curry with rice and as desert delicious brownie and carrot cake :-)
Street/ Peso, 6, Puerta de Jerez, 11380 Tarifa, Tel. +34 956 68 50 92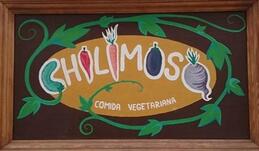 Steak house Vaca Loca
Delicious high quality steaks served on a wooden plate. Full of meat, salad and homemade fries. Portions are huge, you can´t eat it alone ! Good house red wine. A good choise after a kitesurfing session ! This place is not big and fills up quickly. They don´t take any reservation. Great to sit outside on a summers evening and take in the atmosphere, watching all the people around.
Street/ Cervantes 6, 11380 Tarifa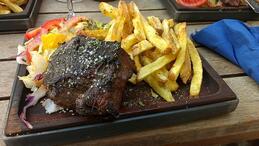 El Tesoro Restaurace
This hidden treasure is little bit complecate to find it, so you need good instruction :-) But once there, you will not regret this trip. You end up in the mountains over Punta Paloma, in a secret place in midle of Tarifa´s virgen envirement, overlooking the bay of Valdevaqueros. The restaurant offers fabulous local food, while you enjoy the beautiful view of Marocco. There are very busy in sommer, so advanced booking is recommended.
Street/ Betijuelo, near Punta Paloma, 11380 Tarifa
Okolí Tarify
Gibraltar
GIBRALTAR, 40 km from Tarifa and you will feel like in England. It is an Overseas Territory of the UK and to go there, you need a passport. Most of its area is covered by a nature reserve, which is home to around 250 Barbary Macaques, the only wild monkeys in Europe.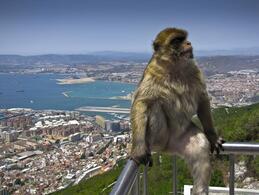 Tanger, Moroko
MOROCCO, TANGER, 14 km from Tarifa´s beaches. In 35 minutes with ferry you will be able to discover a totally other world: the African continent.. The mountain which is to see from Tarifa´s beaches , is called Rif.
They speak french and arabic.
Cadiz
CADIZ, 106 km, capital of the province of Cadiz, is the oldest city in the Ocident - 3000 years! Known for its Carnival in february, flamenco, wineries, monuments, beaches .... and 300 days of sunshine a year :-)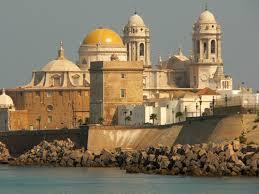 Jerez de la Frontera
JEREZ, 118 km. Famous for its Sherry, many wineries, flamenco, Andalucien horses and circuito de motos. The biggest events is the International Horse Fair in May and Motorcycle Grand Prix in April!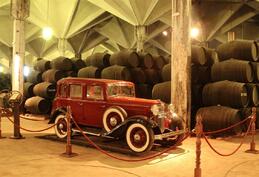 Sevilla
210 km. Capital of Andalusia, famous for its architecture (on the picture is Real Alcázar), flamenco, bullfighting and the fair, which has space of 54 football fields, with 3000 people riding a horse the all times and 500 thousend visiters! A great party :-)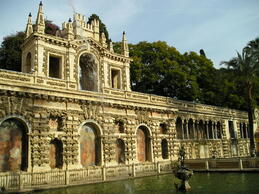 Ronda
RONDA is the next city you must see ! Just 136 km away from Tarifa. The city is cut in two by El Tajo gorge that carries the rio Guadalevín through its centre. Both sides joined the famous bridge of 130 m. It has the oldest bullring in Spain. Ernest Hemingway and Orson Welles lived in Ronda for many years.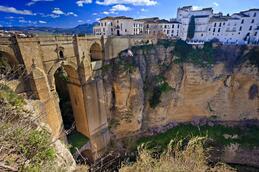 Granada
280km from Tarifa. Alhambra, world heritage by UNESCO, is the best-preserved and oldest Moorish palace in the world (around 8 thousand visiters a day!). Better to book the ticket in advance.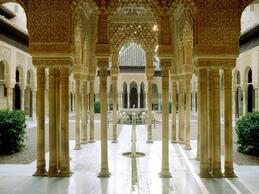 Ceuta
CEUTA, 29 km. You have to take boat to go to Ceuta, it is on African continent. But it is Spanish! The statue of Hercules symbolizes unity of Europe and Africa - "Uniting the world." These two bronze figures are the biggest in the world in the classical mythology.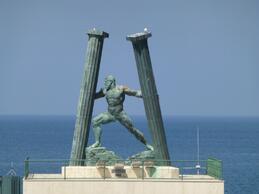 Počasí a vítr v Tarifě
Vítr Poniente
A side onshore wind, very steady, coming from the Atlantic see, from west. In summer it is a thermal wind, the sea is little bit choppy. In winter, this wind is more onshore, more waves comes with this wind, what makes it a perfect spot for waves riding, surfing and paddle boarding.. Wind forces around 10-20 knots. The best spots for riding is Tarifa town (by football stadion) and Los Lances beach (by beach bar Agua). In sommer it is forbidden to kitesurf in Tarifa, so we goes to Los Lances beach.
Vítr Levante
funneled through the Strait of Gibraltar is offshore wind from east, hot and gusty wind in summer and cold in winter. Wind forces of 20-40 knots, mostly blows in sommer. When it blows more than 35 knots, better to take a windsurf equipment :-) Good kite spot for Levante wind is Los Lances, with flat water, but you should contract the rescue boat (just in sommer). In winter we go to Punta Paloma beach or Valdevaqueros. If you are experience kiter, you can go to Balneario beach, which is in town, there are nice waves. But no rescue boat, so in case of emergency you go to the open see....
Teplota vzduchu
from June till September we can get in Tarifa above 30°C. In winter it can be around 20 to 15°C. In January and February is mostly raining.  The water gets warm in summer, requiring only boardies or a shortie wetsuit but is much cooler in winter, when you will need a 4/3 or 5/3 wetsuit.
ATLANTIC OCEAN
On these sandy beaches in Tarifa on the Atlantic ocean side, you will find the perfect wind and weather conditions for kitesurf, surf and windsurf. Beaches as Los Lances, Valdevaqueros and Las Dunas.
MEDITERRANEAN SEE
The last beach in Mediterranean See, beach called playa Chica.Tarifa is the only place, where you can take swimm in one day in Atlantic Ocean and Mediterranean See.